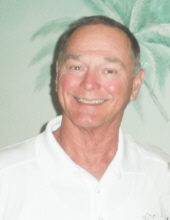 We regret to inform you that Retired Major John P. Cook passed away on January 6, 2022 at the age of 76. The Maryland Troopers Association sends it's deepest condolences to the Cook Family during this difficult time.
The following obituary was obtained from the McComas Funeral Home, Harford County, Maryland.
On January 6, 2022, John P. Cook of Bel Air, MD, a lifelong Harford County resident, passed away at the age of 76 after a courageous fight against brain cancer. He was surrounded by his loving family at home when he went to the Lord. He enjoyed annual family vacations to Ocean City, MD and several family trips to Walt Disney World. He also enjoyed gardening and the family pool; was an avid fan of NASCAR and football, but most of all, he loved his grandchildren. He retired from the Maryland State Police as a Major after 29 years of service and then was appointed as the Chief of Police at UMBC for over 10 years.
John is survived by his loving wife of 57 years, Patricia Ann Cook; and cherished family members, daughter, Theresa Paulsen and husband Edwin; son, John G. Cook and his wife Jeannie; and grandchildren, Sean, Brad, and Kyle Paulsen; and Carsyn, Reid, and Ryder Cook. He was the son of Alma (Lowe) and the late John P. Cook, Sr.
In lieu of flowers, donations may be made to the Glioblastoma Foundation at https://glioblastomafoundation.org/get-involved/glioblastoma-donations