National Troopers Coalition 2016 Picnic.
This event is for ACTIVE and RETIRED STATE POLICE and HIGHWAY PATROL only. Do not order a ticket if you do not qualify. DEPARTMENT ISSUED ID's will be checked at the gate and NO REFUNDS will be issued. The picnic will be held rain or shine.
To encourage early ticket sales, we are offering 2 discounts. Purchase your ticket before August 1st the price is $85.00. After August 1st, the price will increase to $100. There will be no ticket sales at the gate. Tickets will be available for sale until September 12, 2016 at 11:59PM or until we sell out.
The second discount is the opportunity to preorder this years NTC Picnic T-shirt at a reduced cost of $15.00. The T-shirt will be available for sale the day of the event for $20 and with limited supplies.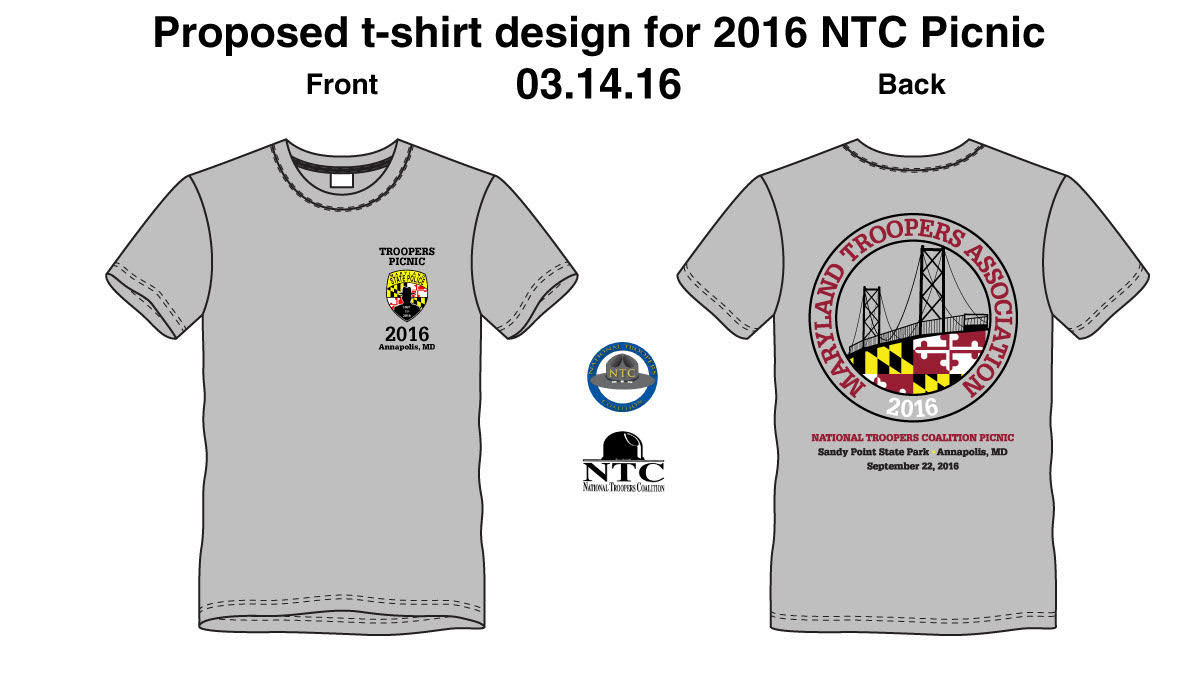 MENU
BULL ROAST/CRAB FEAST
On the Pit: Choice Beef, Turkey Breast, Country Smoked Ham
Bread, Rolls & Condiments
# 2 Steamed Crabs
In case you need some help, here is a video on how to pick crabs;
https://www.youtube.com/watch?v=L3C0yDvvcfU
Homemade Maryland Crab Soup
Hamburgers
Hotdogs
Chili
Goodie Table
Fresh Fruit Bowl, Assorted Cheeses & Crackers, Fresh Vegetables with Dips, Pickled Beets
Potato Salad, Cole Slaw, Soda and Iced Tea
Beer
VENDORS
Please contact the administrator at ntcpicnic2016@gmail.com if you are interested in having a booth at the picnic. There is no charge for a booth but you must buy a ticket for anyone attending.
ACTIVITIES
Music By
Suspended Justice
Bench Press Competition
Date: 9-22-2016
Start Time: 1100 hours
Weight classes:
180 lbs. and under
181 lbs. to 200lbs.
201 lbs. to 220 lbs.
221 lbs. to 240 lbs.
241 lbs. to unlimited
Rules
Liability waiver will need to be signed prior to competing in competition.
Three (3) total lifts
*Any failed lift finishes your competition. If you fail on your first lift you are disqualified.
Lift-off from rack is allowed
Lift begins when the bar touches the chest
When arms are locked out, rack assist is allowed.
*Winner of each weight class wins a Picnic Tee-shirt and bragging rights.
To preregister please send an email to ntcpicnic2016@gmail.com
Addtional Events are being planned and will be announced when finalized.
We have attempted to put together a list of the hotels in the area for the upcoming NTC Picnic. In no particular order are several hotels in the area. For those of you looking at attending an Orioles game you should consider looking at hotels near BWI airport or the Arundel Mills Mall. Those two locations are about 20 minutes from Camden Yards and about 30 minutes from Sandy Point State Park.





Annapolis Area
Rates vary







BWI Airport Hotels – closer to Baltimore





Aloft Hotel BWI –