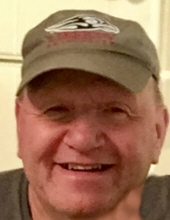 We regret to inform you of the death of Retired Trooper First Class Phillip Lawrence Henry. Our thoughts and prayers are with TFC Henry's family and friends at this difficult time.
The following obituary information has been reprinted from Pritts Funeral Home, Westminster, Maryalnd.
Phillip Lawrence "Phil" Henry, 69, of Westminster, went home to be with the Lord on Monday, February 12, 2018 at his home.

Phil was born on February 3, 1949 in Olney, Maryland and was the son of the late Howard Franklin and Anita (Whirley) Henry. He was the loving husband of Mary-Ellen "Missi" Henry, his wife of 32 years.


Phil graduated from Francis Scott Key High School, class of 1967. He served in the United States Army prior to going into the Police Academy. He was employed with the Maryland State Police for 33 ½ years, until his retirement in 2004. He also worked for Auctioneer, Austin Bohn for more than 25 years; and was head of security for over 30 years at the Maryland Christmas Show in Frederick. He coached several sports at the Charles Carroll Rec. Council, Littlestown Christian Academy, and Carroll Christian School- leading many of his teams to the championships. Phil was a Yankee fan, enjoyed working on never-ending projects around the house, and political debates. He was a member of the F.O.P. and the M.T.A. Phil dearly loved his family and would do anything he could for them. He was fondly known for his strong work ethic, quick wit, and great sense of humor. He will be deeply missed by all those whose hearts he touched.


Surviving in addition to his wife are children Carrie Henry Riggin and husband Chris of Westminster, Casey Henry Mummert and husband Jordan of Taylor, TX, Michael Phillip Henry and wife Rachel of Daniel Island, SC, and Matthew Thomas Henry and fiancée Nicole of Lynchburg, VA; siblings J. Timothy Henry of Westminster and Ellen Carbaugh of York Springs, PA; 5 grandchildren; numerous nieces and nephews.


He was predeceased by siblings Gladys Hall, Kenneth Henry, Maureen Robertson, and Patricia Maggard.

The family will receive friends on Saturday, February 17, 2018 from 3 to 7 p.m. at Pritts Funeral Home and Chapel, 412 Washington Rd., Westminster. Funeral services will be held on Sunday, February 18, 2018 at 1:00 p.m. at the funeral home with Rev. Roger Wood officiating. Interment will be private.


In lieu of flowers memorial contributions may be made in his name to the Juvenile Diabetes Association, 26 Broadway, 14th Floor, New York, NY 10004 or to the American Heart Association, 4127 Park Place Ct., Glen Allen, VA 23060-9979.


Online condolences may be offered to the family at www.prittsfuneralhome.com.