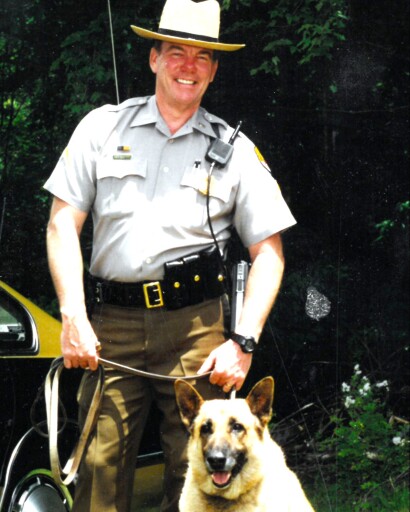 The Maryland Troopers Association regrets to inform you that one of our members, Retired TFC Clarence (Chuck) Creswell passed away on November 3, 2023. The Maryland Troopers Association extends its deepest condolences to the Creswell family during this difficult time. Please keep his family in your thoughts and prayers.
Clarence "Chuck" Creswell, III, of New Freedom, Pennsylvania passed away on November 3, 2023, from cancer. Born in Washington, DC, he was the son of the late Clarence and Audrey (Cohoon) Creswell. He is survived by his loving wife, Heidi Kunert, with whom he spent the past 20 years. His family also includes his son, Justin, of whom he was incredibly proud; daughter-in-law, Danielle; and grandchildren Scarlett and Theodore.
Chuck graduated from McDonogh, which is a private school in Owings Mills, MD, where he was a starter on the football team. He served as an army reservist with the Intelligence Division. He became a Maryland State Trooper, where he dedicated 34 years primarily as a K-9 handler. For most of his career, he was assigned to the Bel Air Barrack "D." During Chuck's legendary service with K-9, he received an abundance of the highest performance awards including the Governor's Citation, numerous Superintendent Commendations, Commander awards, and K-9 Handler of the Year. His co-workers recognized him as a role model, leader, instructor, and mentor. He exemplified what it meant to be a Maryland State Trooper.
Chuck was the president of the Maryland Troopers Association, Lodge 96, where he was active until his death. Also in retirement, Chuck once again resumed playing one of his favorite sports, softball. He played in several leagues and was an outstanding short stop and third baseman.
In lieu of flowers, please make donations to the Maryland Troopers Association, Lodge 96. In the memo line write "In memory of Chuck Creswell." Checks can be mailed to Maryland State Police Bel Air Barrack, in care of Mark Yingling, 1401 Bel Air Road, Bel Air, 21014.
To send flowers to the family in memory of Clarence "Chuck" Creswell, III, please visit our flower store.
Visitation: Thursday, November 9, 2023 2:00-4:00 pm and 7:00-9:00 pm, McComas Funeral Home, 1317 Cokesbury Rd, Abingdon, MD. 21009
Funeral Service: Friday, November 10, 2023; Starts at 11:00am
Mountain Christian Church (Cook Auditorium), 1824 Mountain Road, Joppa, MD 21085
Celebration of Life: Retired TFC Chuck Creswell; Saturday November 11, 2023 6:30pm-10:30pm, MaGerk's Pub & Grill, 120 Bond Street, Bel Air, MD 21014