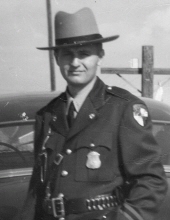 We regret to inform you of the death of retired Detective Sergeant Uriel Paul Utz on May 8, 2018. Our thoughts and prayers are with the D/Sgt. Utz's family and friends at this difficult time.
The following obituary information has be reprinted from the Monahan Funeral Home, Fairfield, Pennsylvania.
Uriel Paul Utz, 78, of Fairfield Pennsylvania passed away peacefully on Tuesday May 8, 2018 at his home, with his wife of 60 years by his side.
Born on February 11, 1940 in Baltimore, Maryland he was the son of the late William R. and Mary P. (Baughman) Utz. He was predeceased by a sister Sharon L. Kite of Austin, Texas. Paul was a 1958 graduate of Baltimore City College and a 1961 graduate of the Maryland State Police Academy. He went on to further his education graduating from Loyola College with a B.A. in Sociology in 1978. He was assigned to the Westminster barracks where he served the majority of his 26 year career, retiring at the rank of Detective Sergeant in 1987. He also served as a counselor at the Shoemaker Center.
Upon retiring, he resumed his passion for building homes and handcrafting custom furniture for his family. He continued his desire for public safety by serving on the Security/EMS team at the National Emergency Training Center in Emmitsburg before fully retiring in 2005. He also served as a volunteer EMT in Fairfield, Pa.
Paul enjoyed hunting, fishing, watching sports, reading, but above all spending time with his wife Judy. In addition to his wife, Judith F. (McManus) Utz, he is survived by his children – daughter Brenda L. Sherwood of Hanover, Pa, son Mark A. and Joy Lynn Utz of Westminster, Md, son D. Scott and Dawn M. Utz of Littlestown, Pa and daughter Jennifer L. and Jenna Aubert-Utz of Baltimore, Md. as well as his 13 grandchildren and 11 great-grandchildren. A sister, Geraldine and Paul Chenoweth and brother, William H. and Lynda Utz, all of Hanover, Pa.
The family will receive friends on Saturday May 12, 2018 from 1-3pm at the Monahan Funeral Home in Fairfield Pennsylvania. A memorial service will be held at 3 pm. In lieu of flowers memorials can be made to the Maryland State Troopers Association, 1300 Reisterstown Road, Pikesville, MD 21208 or the Sam Shoemaker Treatment Center, c/o Springfield Hospital, 6666 Sykesville Road, Sykesville, MD 21784. Online obituary and condolences available at monahanfuneralhome.com