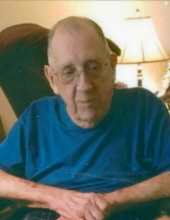 We regret to inform you of the death of retired Corporal George C. Wachter, Jr., on March 18, 2018. Our thoughts and prayers are with the Sgt. Wachter's family and friends at this difficult time.
The following obituary information has be reprinted from the Admas Family Funeral Home, Cumberland, MD.
Cumberland, MD – George C. Wachter, Jr., 86, of Cumberland, MD, passed away Sunday, March 18, 2018, at Devlin Health Care Center.
Born February 14, 1932, in Cumberland, MD, Mr. Wachter was the son of the late George Carl Wachter, Sr., and Edith Irene (Dawson) Wachter.
A United States Marine Corps Veteran during the Korean Conflict, George retired from the Maryland State Police with 29-1/2 years of service. He was a member of the Emmanuel Episcopal Church. He was also a member of a Masonic Lodge and several other organizations.
George is survived by his wife of 50 years: Sandra Jean Wachter; his son: Bobby Wachter; and his daughters: Peggy Allen and Husband, Bill; Carla Murphy and husband, Pat, all of Cumberland, MD; and Cheryl Jones, Flintstone, MD. He also leaves behind his brother: Robert Wachter and wife, Sue, Cumberland, MD; his nieces: Sonya Tucker and Serena Harrison; his grandchildren: Autumn, Beth, Patrick, Tara, Josh, Dustin, Jeremy, and Cheyenne; 15 great grandchildren and five great-great grandchildren.
Friends will be received at the Adams Family Funeral Home, P.A., 404 Decatur Street, Cumberland, MD, on Thursday, March 22, 2018, from 5:00 P.M. to 7:00 P.M.
A funeral service will be conducted at the Emmanuel Episcopal Church, Cumberland, MD, on Friday, March 23, 2018, at 11:00 A.M., with Reverend Martha Macgill officiating. The family will also receive friends one hour prior to the service.



Interment will be in Sunset Memorial Park.



Military honors will be accorded at the cemetery by the Post #13 Veterans Honor Guard.