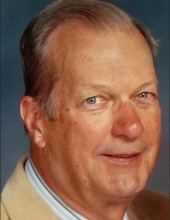 We regret to inform you that on January 21, 2021 Retired Captain Edward Vernon Clark Jr., 87, passed away.   The Maryland Troopers Association sends its deepest condolences to the Clark family at this difficult time. 
The following obituary was posted by the Mac Nabb Funeral Home.
Edward Vernon Clark, 87, peacefully passed away at his home in Catonsville, Maryland on Thursday, January 21, 2021.

Vernon was born March 31, 1933 in Oella, Maryland to the late E. Vernon Clark, Sr. and the late Mildred E. (Sauter) Clark. He attended West Chester Elementary in Oella, MD, graduated from Catonsville High School, Catonsville, Maryland in 1951, and received his BS in Criminal Justice from University of Maryland. Vernon served in the US Navy during the end of the Korean War on the aircraft carrier U.S.S. Hornet. Vernon was a Maryland State Police officer for 30 years, retiring in 1987 with the rank of Captain. Post retirement he worked as chief of security for Enoch Pratt Library, Baltimore, Maryland. Vernon was a member of Emmanuel Lutheran Church. In his retirement years, Vernon enjoyed golfing and volunteered with Meals on Wheels for over 15 years.

Vernon was blessed to have two long, successful marriages. He was married to Patricia for 31 years. Patricia was by his side throughout his career and was the mother of their two sons until her passing at the age of 54. They enjoyed travelling, boating and monthly card club gatherings with their friends. Vernon attended high school with his second wife, Jane. They reconnected at a high school reunion after Patricia's death and were married for 25 years. Together they enjoyed travelling and spending time with family. Jane lovingly cared for Vernon as his health declined and was by her sweetheart's side when he passed.

Vernon was a beloved husband, father, brother, and grandfather. Vernon is preceded in death by his first wife, Patricia A. (Schotta) Clark, his parents E. Vernon Clark, Sr. and Mildred E. (Sauter) Clark, and his sister, Loretta E. (Clark) Miller and Lefty. Vernon is survived by his loving wife Jane (Barnes McCready) Clark of Catonsville, Maryland, his sons Gregory A. Clark of Eldersburg, Maryland and Jeffrey D. Clark and April of Frederick, Maryland; sister Doris Clark Burdick and Ralph of Greencastle, Pennsylvania: granddaughters Samantha J. Clark and Jessica N. Clark; step-children Jennifer (McCready) Stanton and Henry, Richard McCready and Rosemary, and Donna McCready and Eric; 3 step-grandchildren and many nephews and nieces.

His family will forever be grateful for the compassionate assistance they received for Vernon's care from Gilchrist Hospice and Home Helpers Home Care of Baltimore. A small graveside service is planned for close family and friends. In lieu of flowers, memorial donations can be made to Emmanuel Lutheran Church or Gilchrist Hospice Center.To plant a beautiful memorial tree in memory of Edward Vernon Clark, Jr., please visit our Tribute Store.