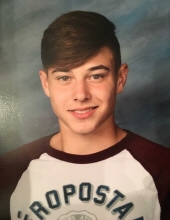 We regret to inform you of the death of Austen Crowe, son of Sergeant Jason Crowe. Our thoughts and prayers are with Sergeant Crowe's family and friends at this difficult time.
The following obituary information has been reprinted from the Adams Funeral Home, Cumberland, Maryland.
Cumberland, MD – Austen Dale Crowe, 16, of Cumberland, MD, passed away Monday, February 5, 2018.



Born November 11, 2001, Austen was the son of Jason Dale Crowe and Stefanie Lynn (Dunmeyer) Crowe, Cumberland, MD. He was preceded in death by his maternal grandfather: Allan Dunmeyer; and his great maternal grandfather: Lester Bittner.



Austen was a 10th grade student at Allegany High School. He came into the world full of love energy and happiness. He lived every moment of his life the same way. He was always precocious beyond his years, walking at eight months, singing the alphabet at one and ice-skating at 18 months. He always had a big smile and a hug ready for anyone he met. He had a compassionate heart and cared about others. He was perfection at every sport he tried including football, soccer, wrestling, basketball, track, and ASA. Our "Awesome" Austen played every sport full out and with great joy. He belonged to many community groups including 4-H, cub scouts, children's theatre, and YHEC with the Outdoor club. Austen fell in love with his sister Allyson from the moment he laid eyes on her and was her constant companion as they grew up. Austen was a shining light to his family and friends. We will always remember his beautiful Hazel eyes with a mischievous gleam and a big smile on his face. His light will never dim in our eyes.



Besides his parents, Austen is survived by his maternal grandmother: Diane Dunmeyer, Kennels Mill, PA; his paternal grandmother: Joyce Johnson, Cumberland, MD; his paternal grandparents: Jim and Vickie Crowe of Florida; this paternal step grandfather: Charlie Johnson and wife, Mary Ann of Iowa. He also leaves behind his sister: Allyson Crowe, at home: his uncles and aunts: Shawn Dunmeyer; Les Dunmeyer; Kelly Gomer; Jille Crowe, John Crowe; his girlfriend: Emma Stafford; as well as numerous cousins.



Friends will be received at the Adams Family Funeral Home, P.A., 404 Decatur Street, Cumberland, MD, on Friday, February 9, 2018, from 2:00 P.M. to 4:00 P.M., and from 7:00 P.M. to 9:00 P.M.



A funeral service will be conducted at the Tri-State Ministry Center, Hyndman, PA, on Saturday, February 10, 2018, at 11:00 A.M., with Pastor Bruce McBride and Pastor Steve Leydig officiating. The family will also receive friends one hour prior to the service.



Interment will be in Comps Church Cemetery.